Troy, MI, United States, November 9, 2020 — U.S. News & World Report and Best Lawyers®, for the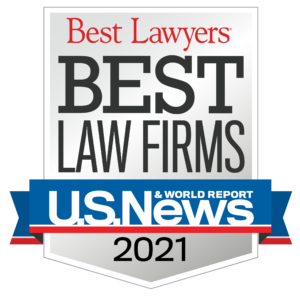 eleventh consecutive year, announce the "Best Law Firms" rankings.
Fishman Stewart PLLC has been ranked in the 2021 U.S. News – Best Lawyers® "Best Law Firms" list regionally in 4 practice areas.
Firms included in the 2021 "Best Law Firms" list are recognized for professional excellence with persistently impressive ratings from clients and peers. Achieving tiered ranking signals a unique combination of quality law practice and breadth of legal expertise.
The 2021 Edition of "Best Law Firms" includes rankings in 75 national practice areas and 127 metropolitan-based practice areas. Receiving a tier designation reflects the high level of respect a firm has earned among other leading lawyers and clients in the same communities and the same practice areas for their abilities, their professionalism, and their integrity.
Fishman Stewart PLLC received the following rankings in the 2021 U.S. News – Best Lawyers "Best Law Firms":
Regional Tier 1

Troy

Litigation – Intellectual Property
Litigation – Patent
Patent Law
Trademark Law
About Fishman Stewart
Fishman Stewart, a leading intellectual property law firm, focuses exclusively on safeguarding the creativity of its clients including protections in the form of patents, trademarks, copyrights, trade secrets, and contracts. Not only has the firm obtained tens of thousands of patents and trademarks worldwide, it has represented clients in thousands of contested matters. Contact Fishman Stewart to protect your intellectual property.  World-Class Quality, Midwest Value®