My name is Sir Finnegan, known as Finny to my school of family and friends. I am an academic interested in a wide range of topics and endeavors. My goal is to approach education in a way that integrates science, technology, engineering, art, and math to guide critical thinking while igniting discussion. I am also an explorer. I love to travel, although no wise fish will go anywhere without a porpoise. Nevertheless, I am always listening for tails of new opportunities! With the able assistance of my colleagues at Fishman Stewart, I curate a pop culture view of creativity with the goal of fostering innovation. While I am always bubbling up content, my goal is not to muddy the waters! If you are not already a recipient, take a peek at our FishTank® and FishBits® newsletter offerings. Let minnow what you think. Finally, not wanting you to be a fish out of water, Fishman Stewart is constantly scaling up a wide range of educational papers. They can be found at www.tackleboxinsights.com. I hope you find them a different kettle of fish than what you might typically find elsewhere.
Get your very own Finny plush toy!
Get you very own Finny plush toy by visiting our Fishman Stewart PLLC Swag page. By completing the form you will receive your choice of complimentary swag item. Swim on over and take a look!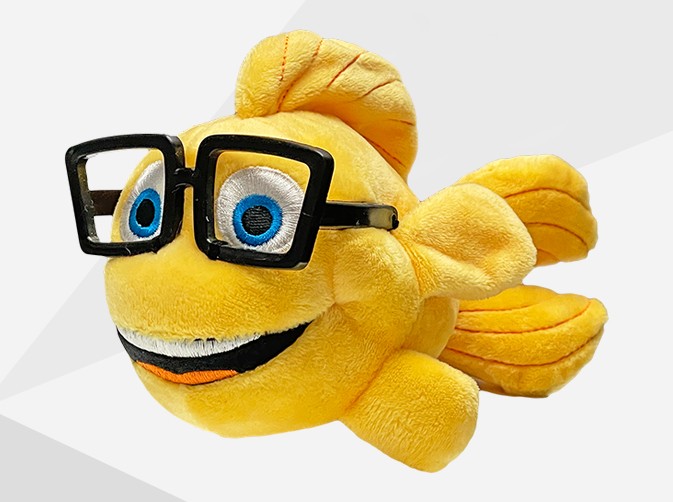 Where in the world is Finny?
Sir Finnegan, known as Finny to his school of family and friends, is taking a trip to explore the diversity of intellectual property all around the world. If you see Finny on his journey, please take a picture of Finny and post it on social media with the hashtag #FollowFinny so we can track his progress. A plush toy of Finny is available to take home on our Swag page. We can't wait to see where Finny goes next!
Finny the fish is on a journey. Let's #FollowFinny around the world!

TURNING INTELLECTUAL PROPERTY INTO INTELLECTUAL CAPITAL®