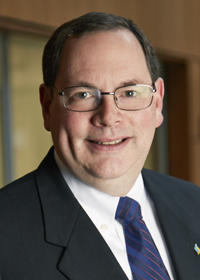 Fishman Stewart is pleased to announce that Founding Partner Michael Stewart was named a "Leader in the Law" by Michigan Lawyers Weekly. The publication held an award luncheon on March 23rd to recognize Michael and the other 29 attorneys included in the 2017 class.
According to Michigan Lawyers Weekly, Leaders in the Law are honored, among other things, for their significant accomplishments or achievements in their practice, making outstanding contributions to the practice of law in Michigan, showing leadership in improving Michigan's justice system, and to those seeking to improve the legal community and their communities at large.
Michael is a frequent author and speaker on intellectual property protection and enforcement. He has spoken at the International Trademark Association (INTA), American Intellectual Property Law Association (AIPLA) and Michigan Bar Association annual meetings, as a speaker on behalf of the United States Patent and Trademark Office (USPTO), the National Science Foundation, and third party organizations such as ARVO.  He has also lectured to engineering, business and law students at the University of Michigan and Notre Dame University and is an instructor for Lorman Education Services and for the Institute for Continuing Legal Education (ICLE).
Michael has been recognized multiple times in the course of his career by Best Lawyers, DBusiness Top Lawyers, and Super Lawyers, Leading Lawyers, and IP Stars. He has also been ranked as an AV Preeminent Lawyer by Martindale-Hubbell, with a peer review rating of 5.0 out of 5.0.  In 2016, Michael was recognized by the State Bar of Michigan's "A Lawyer Helps" program for giving back to the community.