Bloomfield Hills, MI., October 27, 2017, — Fishman Stewart PLLC, a leading national intellectual property law firm, is pleased to announce that Associate Attorney Michael P. Comeau has been named among the Michigan Lawyers Weekly's "Up & Coming Lawyers" Class of 2017. According to Michigan Lawyers Weekly, the thirty honorees have spent less than a decade in practice and display the ambition, drive, determination, and accomplishments that make them worthy of the "Up & Coming Lawyers" title.
Michigan Lawyers Weekly will recognize the 2017 "Up & Coming Lawyers" at an awards luncheon on Thursday, December 7, 2017 at the Detroit Marriott in Troy, Michigan.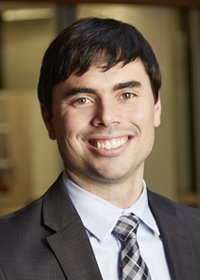 Michael Comeau is an associate attorney at Fishman Stewart. His practice is focused on intellectual property, including patent, trademark, and copyright law.  Michael has been an active member of the Michigan Intellectual Property Law Association (MIPLA) since 2013, serving as a committee chair or an executive board member from 2013-2017.  In addition to his engineering and law degrees, Michael holds a master's degree in business administration. This additional specialty provides Michael with a broader understanding of business. He has developed an impressive expertise in intellectual property in a relatively short time and is constantly looking for ways to innovate, improve, and give back to the community via his legal skills and business expertise.
Michael earned a J.D. degree at DePaul University College of Law, an M.B.A., with Distinction, from DePaul University, and a B.S.E. in Electrical Engineering with minors in Mathematics and Economics from the University of Michigan.
See Michael Comeau's biography.
About Fishman Stewart PLLC
Fishman Stewart PLLC a leading intellectual property law firm, has ranked in the top 10 percent of U.S. law firms in the number of new patents and trademarks filed (IP Today). Fishman Stewart attorneys have developed IP management strategies for U.S. and foreign-based companies in every part of the world. The firm is located in Bloomfield Hills, Michigan. Fishman Stewart focuses exclusively on patents, trademarks, litigation and dispute resolution, copyrights, trade secrets, IP consulting, and transactional and E-commerce services Visit: www.fishstewip.com