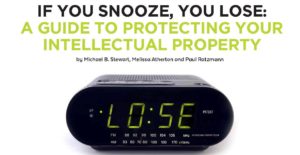 Read "If You Snooze, You Lose: A Guide to Protecting Your Intellectual Property" written by
Michael B. Stewart
,
Melissa Atherton
, and
Paul Ratzmann
 of Fishman Stewart PLLC in the Spring 2018 issue of the Engineering Society of Detroit's TechCentury magazine.
See the
IP Checklists
that accompany the article "If You Snooze, You Lose: A Guide to Protecting Your Intellectual Property"
This article was originally published in the Spring 2018 issue of TechCentury magazine.  The excerpted article in PDF format can be found here with permission from the publisher.