Intellectual Property Insights from Fishman Stewart
Mini Article – Volume 22, Issue 14


Haribo Gummi Bears Celebrates 100 Years
2022 marks the 100th birthday of Haribo Goldbears, the world's first gummi bears. Haribo's flagship product is available in more than 100 countries with 160 million Haribo gummi bears being shipped from its factories around the world every day! Lined upright in a row, the annual production of Haribo gummi bears would wrap around the earth 10 times. 
English often uses the word "gummy" in place of "gummi," but the latter spelling is the preferred version according to a detailed explanation from the Bulk Candy Store. Apparently "gummi" refers to a sugary, gelatinous material used to make candies, while "gummy" means showing the gums.
Despite its long-term popularity elsewhere, Haribo gummi bears only arrived in the United States in 1982. Yet, they have met with amazing success. In fact, Haribo's first US-based manufacturing facility is set to open in Pleasant Prairie, Wisconsin in 2023, a source of pride on the city's web site.  
The gummi bear was invented in 1922 by German confectioner Hans Riegel Sr., in his kitchen using little more than a copper pot, a rolling pin, and a stove. Riegel's first gummi bear prototype was the Tanzbären (dancing bear). According to a recent article in Smithsonian Magazine, "Riegel wanted to give his candy a face and a personality."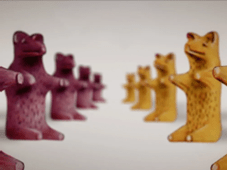 Haribo's gummi bears have undergone multiple transformations over the years. Today, the small, chewy gummies come in a golden bag packed with various flavors.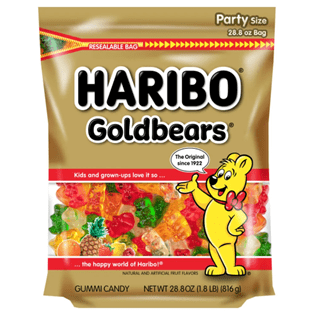 While Haribo has trademark registrations all over the world including design marks such as the bear pictured on the packaging above (US Trademark Registration No. 4075737), Haribo apparently has struggled to retroactively protect the underlying bear shape associated with its gummi candy, having failed to do so when they were first introduced in 1922.
In 2019, Osito & Co. introduced gummi bears imbued with 15% alcohol.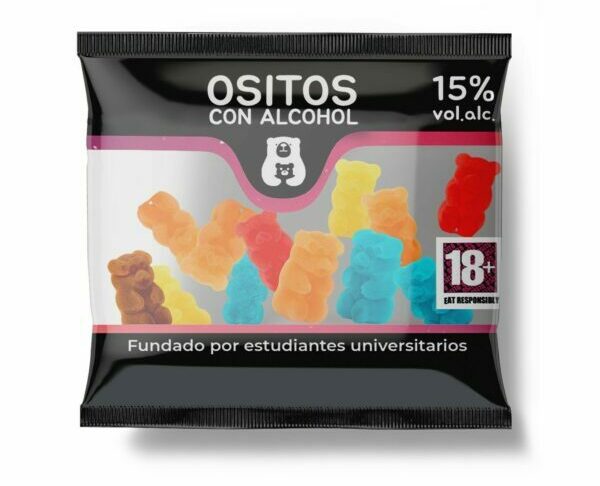 According to Osito, six gummi bears equal a glass of beer, and 15 gummi bears are equivalent to a martini. Osito says that a group of university students thought it'd be cool to mix their childhood's gummies with the alcohol they now drink at parties. 
Unsurprisingly, Haribo was displeased when Osito first offered its alcoholic gummi bears, sending a six-page cease-and-desist letter and threatening legal action against Osito. Among other things, Haribo contrasted the wholesome nature of its gummi bears with a product that promotes alcohol consumption. 
Unfortunately for Haribo, its attempted enforcement effort spectacularly backfired. Rather than capitulating, Osito leveraged the letter to generate brand awareness that it never could have obtained on its own. "When eating gummy bears with alcohol, you're pissing off the giant Haribo. The German company demanded that we cease selling our alcoholic gummy bears and that we give them the "ownership" of this Internet domain (wot?). As you can see, we didn't comply." To Osito's advantage, the dispute has been promoted all over the world in a wide range of publications including the Guardian, Bild, Cotizalia and Food & Wine. Even Getty Images offers a product comparison photo that it licenses on its website. 
To date, Haribo has been unsuccessful in its enforcement efforts regarding its bear design. According to Osito, to this day, 2,213,129 alcohol gummi bears "have gone partying."
As discussed in one of our white papers that can be found at www.tackleboxinsights.com, to maximize enterprise value it is essential to leverage all forms of intellectual property protection to protect creativity. Things may have turned out differently if Haribo could have shown its exclusive right to use bear shapes for gummi-based candy. Having failed to do so, however, its underlying fame and longevity became a detriment when it sought to overreach beyond its rights. They'll just have to bear the cost of their earlier choice! 
Published July 15, 2022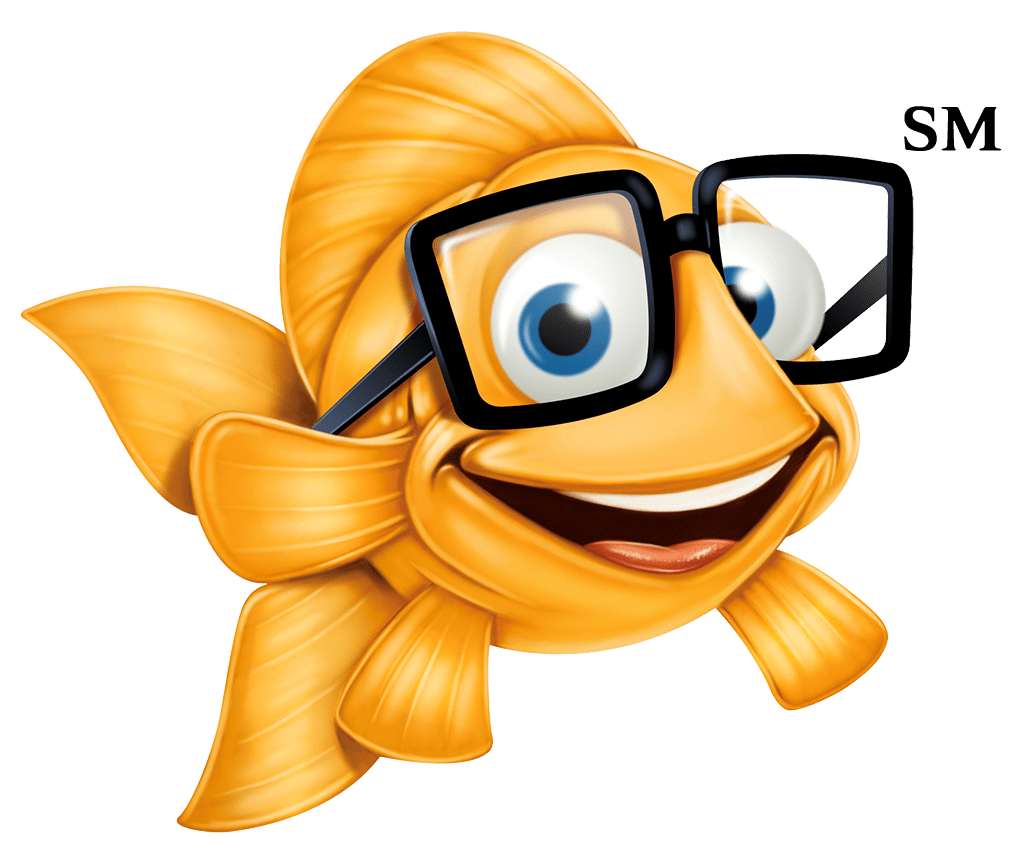 Related Content from Fishman Stewart
IDENTIFYING, SECURING AND ADVANCING CREATIVITY®