Intellectual Property Insights from Fishman Stewart PLLC
Newsletter – Volume 21, Issue 23

They Can't Own That, it's a Basic Common Word!
When Facebook® recently announced its rebranding to "META" it was not only met with challenges by third parties claiming prior rights in META as a trademark (a discussion for another article), but it was also met with social media uproar protesting Facebook's attempt to monopolize a "basic common word."  These comments on social media included:
— "No one can own a common word."
— "Being one of the largest companies and then try to hijack a common word is just being a giant bully"
— "I'm not sure how Facebook can appropriate the name 'Meta', which has long evolved from a prefix to a common word in its own right…"
— "Meta – the new name they've chosen is a common word, don't let them monopolise it"
— "You know, it's weird that facebook would be allowed to rename their company "Meta". It seems to me that word is far too generic and common to be trademarked."
— "Facebook becoming 'Meta' just means that Mr. Zuckerberg is hogging a common and useful word for his useless entertainment company. How is this even legal? And what's the next exciting company name change in 2021? Tesla becoming 'Mussolini'?"
The public commonly misunderstands whether, and how, words plucked from everyday language can be "owned" as trademarks.  A little explanation helps to put context on the nature, and limits, of trademark ownership rights.  Here, context is the underpinning of this discussion.
With few exceptions, notably fanciful and meaningless ("made-up") terms, such as POLAROID, EXXON, XEROX, KODAK and the like, most trademarks are in fact basic common words.  Trademark law welcomes protecting and granting exclusive rights in basic common words as long as the words do not convey their basic common meaning in the context of the goods or services provided under the trademarks. SUDSY, for example, might make a great trademark for a line of children's clothing, but not so for soap.  In the context of soap, sudsy is descriptive, and basic principles of fair use – even First Amendment principles – reserve to the public the right to describe their soap products with the word sudsy. So, it's all about the context: a basic common word can serve as a trademark if it is not used as a brand for goods or services it describes. If sudsy is trademark protected for a line of children's clothing, go ahead and use "sudsy" all day long – in parlance, or even as a trademark yourself (if YOU really love it) for your own line of, say, auto parts. Just don't use it as a brand of children's clothing – that belongs to the trademark holder of SUDSY.
In the real world, APPLE is perhaps the most obvious example of this doctrine of trademark law.  While apple could never be monopolized by a commercial seller of the red fruit hanging from trees, it's one of the strongest trademarks in our current culture for all things techy: computers, watches, and TV and media platforms.  When you understand that a trademark is only a limited monopoly for the commercial use by the trademark owner for its field of business, you understand how basic common words can become the subject of this type of limited monopoly. See: Intel, Apple, Amazon, Oracle, Chase, Adobe, Target, Zoom, Mars, Puma, Ruffles, Naked, Shell, Quaker, and Visa.
Under the same principles, even Bible phrases can become the subject of trademark protection. For instance, LOVE YOUR NEIGHBOR and THE LORD IS MY SHEPHERD are both the subject of federal trademark applications/registrations.
Bottom line: trademarks can be (and usually are) comprised of basic common words – it all depends on the context of their use.  Now go log onto Twitter and let others know they just don't understand trademark law!  And let us know if we can help you determine if the mark you've chosen is protectable in the context of your commercial field of business.
Published November 12, 2021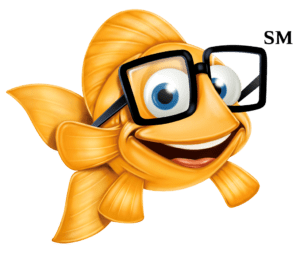 From Military Police to patents, a Fishman Stewart attorney's life successes are rooted in military service
The annual November 11 observance of Veteran's Day — a day dedicated to honor and recognize the men and women who served the United States in the Armed Forces — holds a place of veneration for Paul Ratzmann, a registered patent attorney and partner at Fishman Stewart and proud veteran of the United States Army. While reflecting on this year's theme, "Honoring All Who Served," and the centennial observance of the Tomb of the Unknown Soldier in 2021, Ratzmann values the central role the military has played in shaping his career.
"Without question, serving in the military was the best thing I have done from a career perspective," Ratzmann said. "I go through life filled with a great sense of accomplishment, which I largely attribute to my start in the military."
Ratzmann served in the Military Police from 1983 to 1986 where he was stationed for two years in Panama, which included three deployments to Honduras, before finishing out his service in Virginia. Now an accomplished patent attorney, a career in intellectual property law wasn't initially on Ratzmann's radar.
"Like many who enter into active duty, I joined the Army with an eye toward college through its educational program, which was my ultimate goal."
Though Ratzmann didn't have a clear idea of where his education and experience would lead him, he was driven to succeed, carving out time while in the service to study mathematics. Following his service with  the Army, he went on to pursue both a Bachelor of Science and a Master of Science in Mechanical Engineering at University of Wisconsin – Madison. From Madison, he went south to Fermi National Accelerator Laboratory (Fermilab) in Batavia, Illinois to work as a research engineer.
After Fermilab, Ratzmann went on to GE Healthcare to work in product development, where he obtained 11 patents. It was his experience there that sparked his interest in becoming a patent attorney. With a wife and two kids at home, plus a full-time job, Ratzmann pursued his law degree in the evening, and after a few busy years, obtained his Juris Doctor from Marquette University in 2004. He started out his law career at a small patent boutique firm, before ultimately joining Fishman Stewart in 2012. Today, Ratzmann's practice focuses on managing various legal aspects of intellectual property matters for Fishman Stewart clients including domestic and foreign patent prosecution, due diligence, opinions, and design-around.
As an expression of gratitude for the experiences the military provided, Ratzmann volunteers as a mentor  at the Special Operators Transition Foundation, formerly known as Your Grateful Nation, which is committed to helping Special Operation Forces veterans transition from the military into their next successful career.
"In working with Special Operators Transition Foundation, I feel a tremendous sense of honor and respect when I'm able to give back to those who held roles that I looked up to during my time in the service," Ratzmann said. "It's gratifying to know my contribution has come full circle."
IDENTIFYING, SECURING AND ADVANCING CREATIVITY®