Intellectual Property Insights from Fishman Stewart PLLC
Newsletter – Volume 21, Issue 17


New U.S. Law Increases Penalties for Pirating Copyrighted Content
By
Kristyn C. Webb
Tucked inside last year's COVID-19 relief bill was some new legislation called the Protecting Lawful Streaming Act ("PLSA"). The PLSA targets the unauthorized streaming of copyrighted content and imposes fines and a maximum 10-year prison sentence for multiple offenses. But there is no need to stop using your neighbor's Netflix login just yet! The act is only aimed at commercial, for-profit streaming companies that pirate copyrighted content—not individual users. In other words, the PLSA targets the supply side of illegal streaming, not demand.
Prior to the enactment of this law, unauthorized streaming of copyrighted content was merely a misdemeanor offense, and with such low penalties, many offenders took advantage of this "streaming loophole" and illegally distributed approximately $30 billion USD worth of content per year. Perhaps unsurprisingly, some of the strongest support for the heightened criminal penalties in the PLSA came from sports organizations. In particular, the NBA and the UFC have urged Congress to adopt legislation for nearly as long as live streaming has been around.
In fact, earlier this year, UFC president, Dana White, called out one notorious illegal streamer, Rocco Walker, on Instagram and warned Walker that he would be prosecuted if White found out that Walker had illegally live streamed UFC 257, the UFC's pay-per-view event which took place in Abu Dhabi and featured a rematch between lightweight titleholder Dustin Poirer and Conor McGregor. That event sold 1.3 million views at around $70 per view—one of the UFC's highest selling pay-per-view events ever. Before the event, Walker backed down and issued a statement that he would not be streaming UFC 257. Eventually, he deleted his streaming service altogether, while White, taking the win, has announced that for every UFC event, the UFC will "go after one of these guys."
Additionally, Congress has not stopped at simply passing the PLSA. Earlier this year, several U.S. senators signed a letter to U.S. Attorney General Merrick Garland urging the Department of Justice to prioritize the investigation and prosecution of alleged PLSA violators. During his confirmation hearing, regarding the PLSA, Garland stated that he considers intellectual property enforcement a "priority area" and would "vigorously enforce this important law." However, Garland has not yet responded to the senators' letter.
Without prioritization by prosecutors, it is unlikely that the PLSA will have its intended effect of curbing widespread illegal streaming of copyrighted content. On the other hand, direct challenges, like those proposed by White, may prove to be very effective deterrents. 
Published August 20, 2021

IP SNAPSHOT®: Are your portfolio companies maximizing the value of their creativity?
As part of its due diligence services, Fishman Stewart announces its new IP Snapshot® report — a time saving insightful tool for PE, VC, and angel fund managers, as well as investment bankers. The IP Snapshot® gives an executive level view of the intellectual property health of your portfolio companies and business units. A scorecard-style report, the IP Snapshot® illustrates 1) which portfolio companies have taken significant steps to protect their creativity (green), 2) which companies have taken preliminary steps to protect their creativity (yellow), and 3) which companies have done nothing to secure their valuable creativity (red). Our red, yellow, and green IP Snapshot® is tailored to your needs and provides valuable new insights for your investments.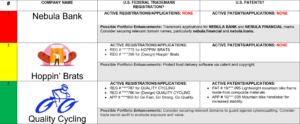 For more information and to schedule a no-cost consultation for your IP Snapshot® report, visit www.fishstewip.com/ipsnapshot/.
IDENTIFYING, SECURING AND ADVANCING CREATIVITY®