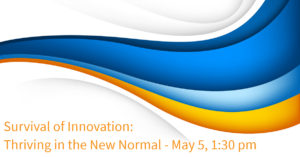 There's no doubt that COVID-19 will change the business landscape for years to come. The most dire impact estimates from the Small Business Administration and other agencies suggest that small businesses may be closing at a rate as high as one per minute, never to reopen.
All businesses, regardless of size or industry, are facing two critical challenges – how to survive the immediate operational disruption and how to thrive in the new normal as economies reopen.
Our panel of intellectual property and restructuring experts are on hand to help you address both of these existential questions in our complimentary one-hour webinar.
Topics include:
Ensuring Sustainability of Your Business
Importance of Innovation for the Post COVID-19 Economy
How Business Valuations are Impacted
Join the Fishman Stewart live panel discussion via Zoom next Tuesday, May 5th, at 1:00 pm for tips on surviving and thriving in the new normal.
Panel members are
Michael Fluhler
and Sheldon Stone, Restructuring Practice Leader at Amherst Partners.
Doug LaLone
will serve as the discussion moderator.