University Innovation in Response to COVID-19
Live Panel Webinar – May 28 at 1:30 PM EST
COVID-19 has drastically changed the commercialization landscape for universities. Innovation leaders from Big Ten Universities Purdue, Michigan, and Illinois will share their perspectives regarding how they are pivoting and innovating during the pandemic.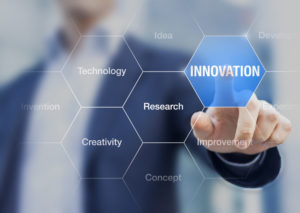 Discussion Topics include:
• Emerging technologies that universities have created during COVID-19
• How universities are adapting their commercialization process in response to the pandemic
• Business and investment opportunities for the private sector
Join the discussion with:
Matthew Lynall, Ph.D. of Purdue University is a clinical Professor at the Krannert School of Management. He is the Director of Experiential Learning, and Deliberate Innovation for Faculty Director in Discovery Park. Dr. Lynall focuses his work at Purdue in working with faculty and graduate researchers to translate their research into practice through commercialization.
Jonathan Fay, Ph.D. of the University of Michigan is the Dixon and Carol Doll Executive Director of the Center for Entrepreneurship. Dr. Fay focuses his efforts on facilitating and inspiring entrepreneurship and innovation with PhDs, PostDocs, and Faculty. He currently manages the nationally acclaimed NSF Innovation-Corps program (NSF I-Corps) at U-M and as well as manages statewide innovation education programs for the Michigan Economic Development Corporation.
Jed Taylor, M.S., MBA of University of Illinois at Urbana-Champaign is the Executive Director of TEC, an innovation center. TEC helps students and faculty develop an entrepreneurial mindset to improve the world. In addition to his work at TEC he also works with startup companies as an entrepreneur-in-residence at Enterprise Works in the Research Park.
Michael Fluhler, Esq. is a Partner at Fishman Stewart. Michael is an intellectual property attorney, litigator and trusted business advisor for securing and monetizing innovation for software, medical and electro-mechanical technologies.
Douglas P. LaLone, Esq., is a Partner at Fishman Stewart. Doug an intellectual property attorney and Purdue engineering graduate, will moderate the discussion. Doug focuses his intellectual property practice on helping creators of technology identify and leverage their intangible assets to increase enterprise value.