Bloomfield Hills, MI., November 30, 2016, — Fishman Stewart PLLC, a leading national intellectual property law firm, is pleased to announce that Associate Attorney Melissa R. Atherton has been named among Michigan Lawyers Weekly's "Up & Coming Lawyers" Class of 2016. According to Michigan Lawyers Weekly, the thirty honorees have spent less than a decade in practice and display the ambition, drive, determination and accomplishments that make them worthy of the "Up & Coming Lawyers" title.
Michigan Lawyers Weekly will recognize the 2016 "Up & Coming Lawyers" at an awards luncheon on Thursday, December 1, 2016 at the Detroit Marriott in Troy, Michigan.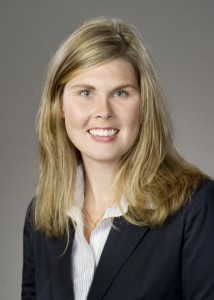 Melissa Atherton is an associate attorney at Fishman Stewart. Her practice is focused on trademark and copyright law, including prosecution, clearance, enforcement and litigation. Melissa specializes in helping her clients develop trademark and copyright filing strategies and implement same in an efficient and cost-effective manner. She also has extensive experience in internet-related enforcement efforts and has handled matters in federal court before the Trademark Trial and Appeal Board.
Melissa has been recognized by Michigan Super Lawyers as a Rising Star, an award bestowed on only 2.5% of attorneys in Michigan.  She is on the executive board of the Women's Bar Association of Oakland Country and is a member of the Association of Corporate Growth (ACG) – Detroit.
Melissa earned her Juris Doctor degree from the University of New Hampshire School of Law and B.A. in English and Economics degree from the University of Windsor in Ontario.
See Melissa Atherton's biography.
About Fishman Stewart PLLC
Fishman Stewart PLLC (formerly, Rader, Fishman & Grauer PLLC), a leading intellectual property law firm, has ranked in the top 10 percent of U.S. law firms in the number of new patents and trademarks filed (IP Today). Fishman Stewart attorneys have developed IP management strategies for U.S. and foreign-based companies in every part of the world. The firm is located in Bloomfield Hills, Michigan.  Fishman Stewart focuses exclusively on patents, trademarks, litigation and dispute resolution, copyrights, trade secrets, IP consulting, and transactional and E-commerce services Visit: www.fishstewip.com